A fun online collaging art workshop with Mexican tunes, beautiful Frida and her inspirational iconic imagery.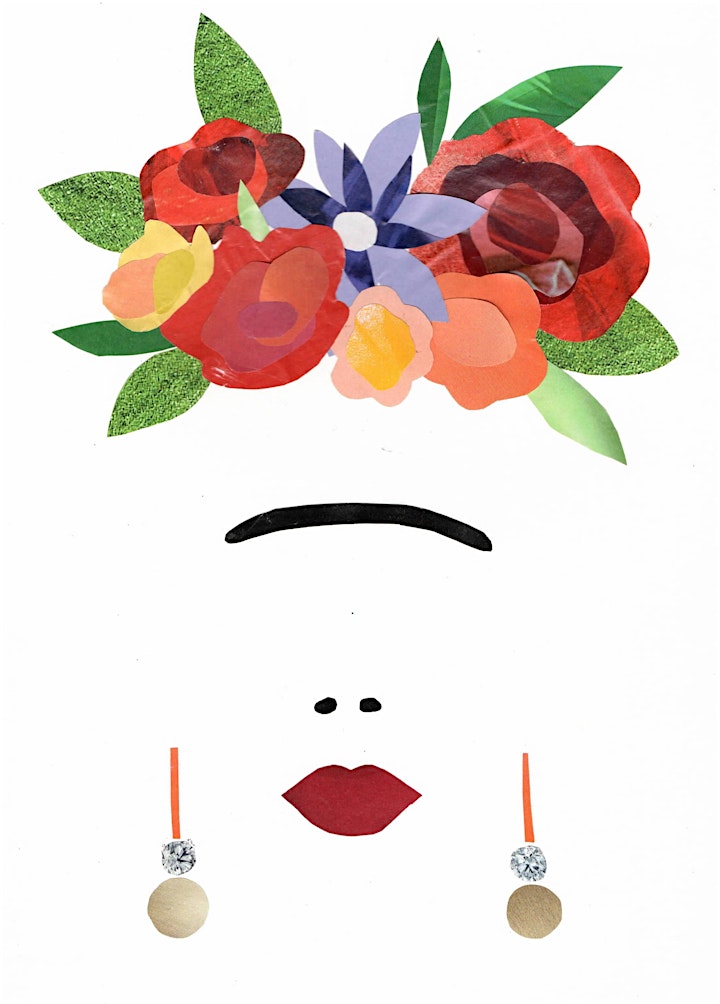 "I paint flowers so they will not die." Frida Kahlo
Frida Kahlo, 1907-1954, "is remembered for her self-portraits, pain and passion, and bold, vibrant colors. She is celebrated in Mexico for her attention to Mexican and indigenous culture and by feminists for her depiction of the female experience and form."
Let's celebrate this beautiful and inspirational artist by exploring her iconic portraits before refining the component parts down to create our own collage like the example above. All the while we listen to some Mexican tunes.
Aimed at all levels, and abilities, with a focus on ensuring, with limited art supplies, everyone can take part in art. Ideal for families too (children to be accompanied by an adult) and a great evening for couples to get together and create (and of course, you only need one ticket!).
Suggested donation £15. I'm trialing the donation based tickets here as my ethos is for all to access art. I please ask to be honest with the amount you can afford, as like many artists, I don't make a killing out of art, thanks!
The online workshop is delivered in a way to avoid webinar fatigue with an engaging interactive presentation and of course, practical art activities – let's call it a WebinART!
What you will need:
A4 plain paper
Coloured papers: whatever you can find – magazines, pre-painted plain paper, post-it notes, wrapping paper – anything that's paper and not white!
Scissors
Glue: if you don't have any, this link will show you how to make glue at home with common kitchen ingredients
Please ensure you have everything ready to get the best out of the workshop.
Running online workshops is great for getting everyone across the globe to take part, please check here to see what time my 1pm (GMT) workshops will be in your time zone.
(I am running other times and dates, as well as other courses coming soon, please see my page here for more information)
Please note:
Your link to the Zoom webinart will be in your Eventbrite ticket, please arrive in good time to avoid any issues in gaining access.
I really look forward to having some art fun together and if you have any questions please email me at info@rebecca-harris.com or find me on Facebook.