With music & drawing we'll simplify the beautiful complexities of Kandinsky & take this through to the creation of our own creative collage.
"Everything starts with a dot" – Wasilly Kandinsky
(I am running other times and dates, as well as other courses coming soon, please see my page here for more information)
Creative block, looking for alternative approaches, or perhaps new to art? This two-hour fun and engaging online workshop will kick-start your art.
Learn in lockdown with artist Rebecca Harris as we will go through a journey of various drawing techniques, with an infusion of 1920s jazz, and build upon each activity before arriving at our very own Kandinsky inspired collage. Aimed at all levels, and abilities, with a focus on ensuring, with limited art supplies, everyone can take part in art. Ideal for families too (children to be accompanied by an adult).
Wassily Kandinsky, 1866-1944, was best known for his abstract works and painting music. With this in mind we will look at the artist's abstract artworks, and work through a range of techniques simplifying his beautiful complexity. The online workshop is delivered in a way to avoid webinar fatigue with an engaging interactive presentation and of course, practical art activities – let's call it a webinart!
What you will need:
A4 plain paper
Coloured papers: whatever you can find – magazines, pre-painted plain paper, post-it notes, wrapping paper – anything that's paper and not white!
Pencil
DRY colouring medium: again, whatever you can find – oil pastels, kid's colouring pencils or crayons, eye-shadow, felt tips etc (must be dry as we need to work with the coloured collage right away and no time to dry)
Scissors
Ruler & compass: or anything with a straight edge or circular
Glue: if you don't have any, this link will show you how to make glue at home with common kitchen ingredients
Please ensure you have everything ready to get the best out of the workshop.
What you will get :
A fun and inspiring two-hour workshop
A brief introduction to Kandinsky, abstract art and how the formal elements are applied
Drawing and collaging techniques with a little twist at the end (collaging a collage)
Your unique 'Kandinsky Kollage'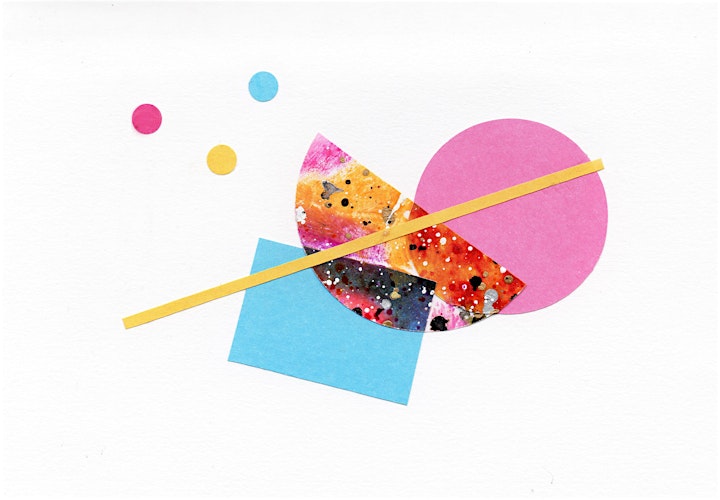 Please note:
Your link to the webinart will be in your Eventbrite ticket, please arrive in good time to avoid any issues in gaining access. Workshops are delivered using Cisco Webex Meetings which you can run either through your browser (I recommend Google chrome), or their desktop software. If joining through mobile you will need to download the Webex Android or Apple app in advance.
I really look forward to having some art fun together and if you have any questions please email me at info@rebecca-harris.com or find me on Facebook.